What happened to Burning Man?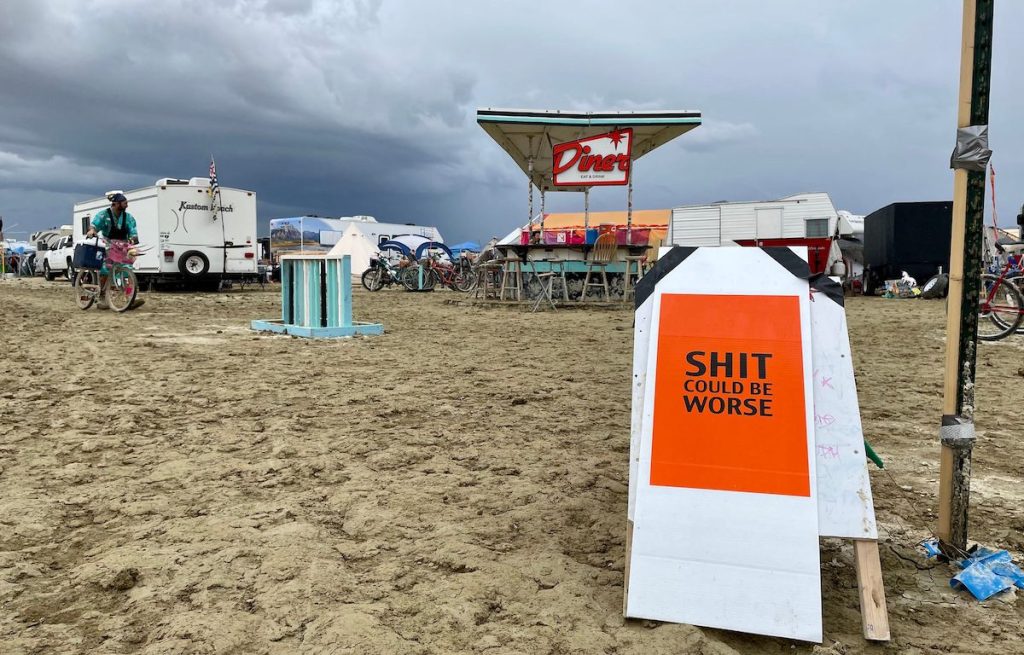 There are two types of people. There are those who madly love Burning Man's sandy utopia, and others who would never set foot in the desert of Mad Max-obsessed hipsters instead. Well, the latter must have been very happy not to have set foot there this year either. In fact, the Nevada desert, where the festival is held, was hit by torrential rains last weekend that quickly swamped the area and made it virtually impossible for the event to take place naturally. The organizers therefore asked the participants to ration water and food and to find safe shelter. It was only on Monday that the nearly 70,000 people present were given the green light to leave the area safely (although some had fled on foot or by other available means in the days before).
We've put together a few videos showing who was at Burning Man to recreate that nightmarish weekend.
Police arrest climate activists
Climate activists had blocked the traffic
with the aim of disrupting the Burning Man Festival in Black Rock City.
The Nevada Rangers have democratically restored traffic. pic.twitter.com/fi73ipMc4M

— Sky Italy 🦅 (@_sky Italy) August 28, 2023
The party (there was a little)
Burning Man Festival before the rain 😂#burning man #BurningMan2023 #BurningManFestival pic.twitter.com/iiqf6lExcc

—CBKNEWS (@CBKNEWS121) September 4, 2023
And also the mud (some more)
Our fearless park editor @AshleyHarrell3 is on the floor at Burning Man and despite the mud bowl there was this double rainbow pic.twitter.com/gBQMNeUG4B

— Dan Gentile (@Dannosphere) September 3, 2023
who stops the music (Spoilers: the weather)
Our fearless park editor @AshleyHarrell3 is on the floor at Burning Man and despite the mud bowl there was this double rainbow pic.twitter.com/gBQMNeUG4B

— Dan Gentile (@Dannosphere) September 3, 2023
"I don't think God likes paganism"
I feel like God doesn't like paganism. #Burning Man pic.twitter.com/qRWsv5tR2c

— CarolinaGirl (@Carolin15161363) September 4, 2023
Don't worry, it's just tornadoes and fires
Firestorm at Burning Man Festival. pic.twitter.com/zSfuLsqhmD

— UNEWS (@UNEWSworld) September 2, 2023
The ultimate transformation into a Mad Max movie
Aerial view of the Burning Man Festival in Black Rock City.

There is a Mad Max remake. pic.twitter.com/H600BZFx9D

— EXOCET17™ 🇫🇷 ⵣ (@excocet17) September 5, 2023
Diplo and Chris Rock hitchhike away
I just ran 5 miles in the mud from Burning Man with Chris Rock and a fan picked us up pic.twitter.com/0uxSXLHgY6

– diplo (@diplo) September 2, 2023
The escape
Tickets for Burning Man…$575
Vehicle ID cards…$150

To justify the $120,000 you spent on your TRX by saying you can get the fuck out of there… PRICELESS pic.twitter.com/nLbtWQ7XfL

— The JRE Companion (@TheJRECompanion) September 5, 2023
The Endless Exodus
Thousands leave Burning Man festival after flooding caused by heavy rain#BurningManFestival #Burning Man #BurningMan2023 pic.twitter.com/X39yWcL9IY

— Moonbitly (@moonbitly) September 5, 2023