Because it is about the will of Franco Battiato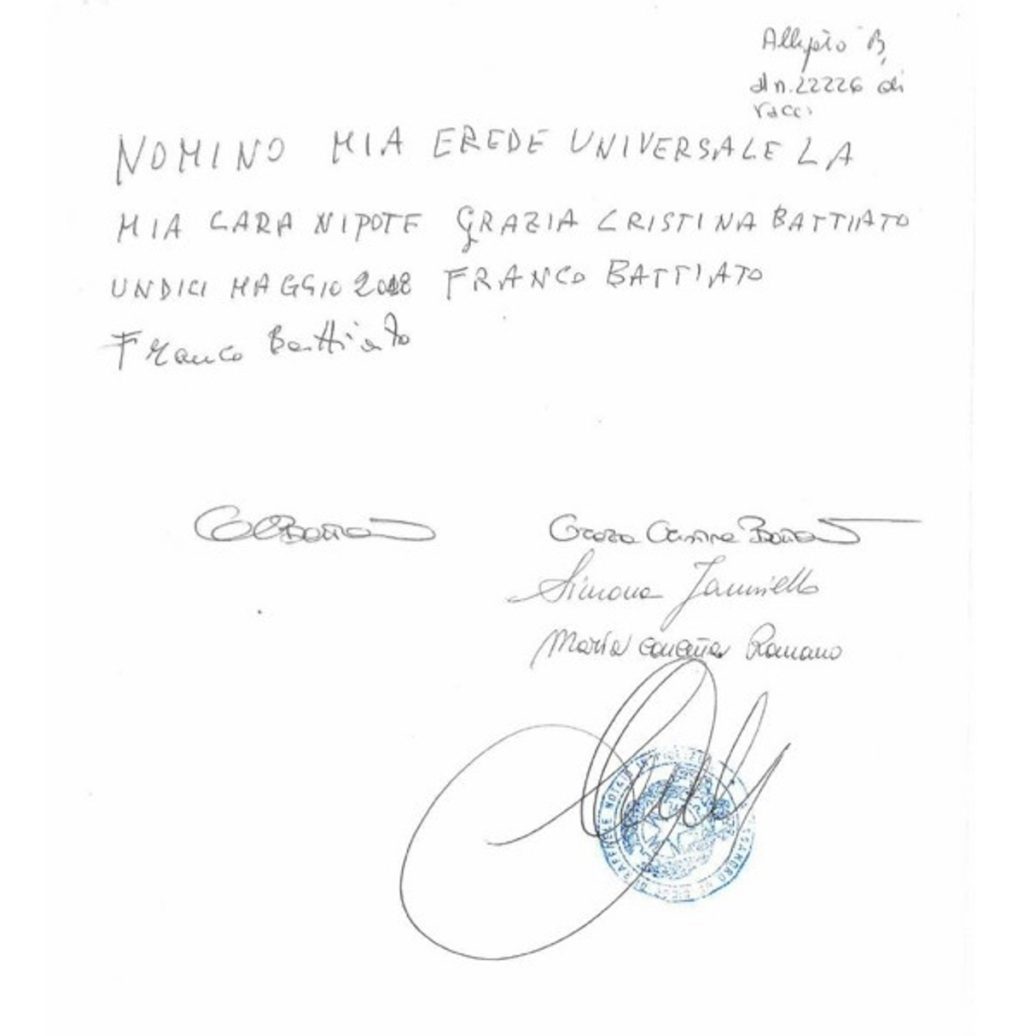 "I appoint my dear niece Grazia Cristina Battiato as my sole heir. May 11, 2018. Franco Battiato". The three lines written in block capitals on a white sheet, followed by the musician's signature, represent Battiato's holographic will and were released by the website yesterday open. Battiato will die three years after signing this will, on May 18, 2021.
According to what Franco Bechis reports openThe will was presented to a notary three months later by Grazia Cristina Battiato. In February 2018, however, Giuseppe Zappalà, a neurologist at the Garibaldi Hospital in Catania, found the musician to have "temporal-spatial disorientation, marked cognitive disorders and short-term memory disorders that have clearly worsened in recent months". The certificate was the basis of the decision of the Court of Catania to appoint his brother Michele as the musician's custodian.
However, when questioned at his home by the judge in charge of the case, Battiato "was able to correctly state his own first and last name and the year of his birth, but not the day and month." He stated that he did not remember the reasons for the remember the presence of the judge; He stated that he was not suffering from any disease. When asked if he had any banking connections, he replied, "I really don't have any SIAE." In reality, "he turns out to be a holder of various checking accounts, as well as mutual funds and other investment vehicles; To the other questions put to him by the judge, he answered with sentences without recognizable meaning, including those concerning his income and his current occupations.
The consequence is that the handwritten will was properly entered, but the rules of succession in favor of the niece were fixed. The regular meeting of Battiato's company, L'Ottava Srl, was held on July 14, reports his brother Michele openresigned from the position of sole director, a position now held by Grazia Cristina Battiato.
The musician's villa in Milo also went to the niece, which was restricted as an "Artist's House of Cultural Interest" in November 2022 at the request of the Cultural Heritage Inspectorate. The heir has appealed, "but the dispute is just beginning".