Chemical Brothers, the review of the concert at the Ama Music Festival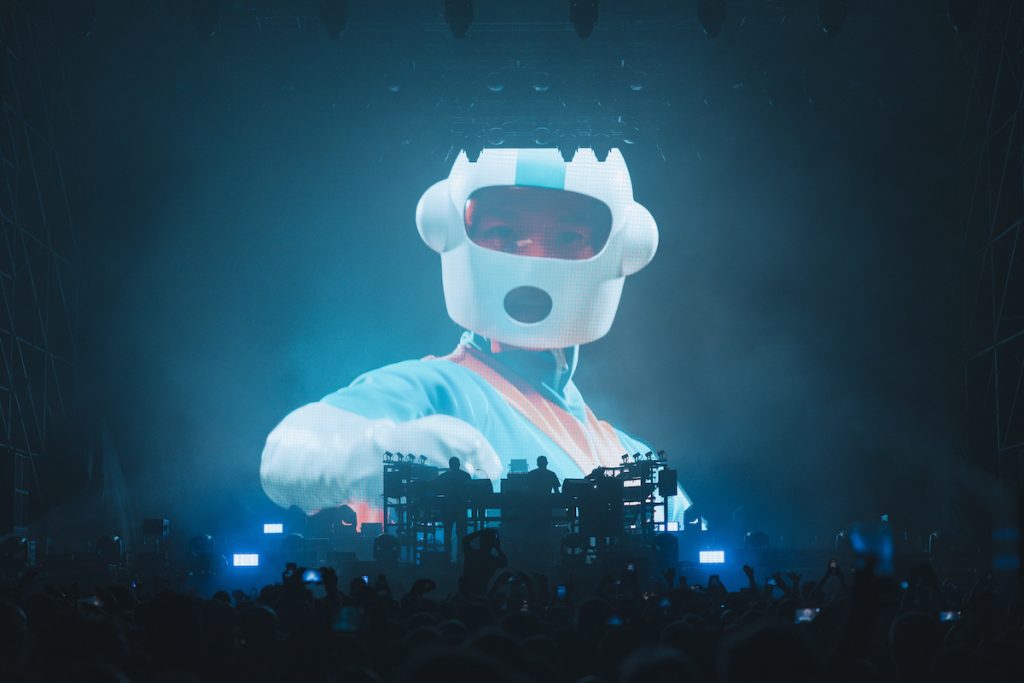 Ed Simons and Tom Rowlands have officially been on site since 1995. In the world of electronics, that means they're about three centuries ago. They've been innovators for ten years or maybe longer. They shaped a sound that combined club electronica and rock in an unprecedented way and gave us some of the most important videos for the MTV generation. Then, like any other electronic project, they lost their edge, the world started to move faster than them, and the Chemical Brothers were a thing of the past. Of course they continued to produce, always in excellent quality, but no longer with the innovative ferocity that had so inspired us at the time. The new generations probably don't know about Simons and Rowlands, but for a large part of us, they were the alternative. A reasonable alternative and therefore an alternative of thinking, of ideas, of life.
Oddly, even though I'm a music journalist and a big fan of electronics, I've never been to a Chemical concert. On the one hand because it was no longer new, no longer a priority, partly for fear of seeing again a past that was certainly fundamental to my education, like that of many of my thirty-year-old peers, and beyond. However, the opportunity to see her previewing the Ama Music Festival (which will bring Yungblood, Cypress Hill, White Lies, Megadeth and Turnstile to Italy in August) in the green of Romano D'Ezzelino's Villa Cà Cornaro in Vicenza was was tempting. I gave up the fear of seeing part of the past crumble and crossed the threshold.
And it got off to a strong start: go, do it again (mingled with Get high), Hm, No reason And Hey boy, hey girl. A statement of intent. The line-up moves across the duo's entire discography leave home (Opening track of the debut album leave the planet dust) To Free yourself (from the last album No geography). In between there is space for the history of electronics star guitar To electric bench (here played with Setting sun), out of fainting to a cover of enticement from New Order, from Block out rock beats To Electroplate for two hours very exciting and uninterrupted show; In fact, the tracks are shuffled, shuffled and mirrored to run and repeat continuously, thus maintaining an uninterrupted flow of sound. This turns the live show into a real club show, in which the focus is on the physical movement of the audience. In fact, the most sung moments such as let it be forever, Believe or the hit The Salmon Dance of 2007 precisely because there is no place for what is inoperable for that specific flow.
The two push while remaining holed up behind a wall of synthesizers and drum machines (it's a shame they can't really see and understand what's being mumbled at what moment in these instances) and work on a sequence that's unstoppable. They also make little mistakes, imperfections that, in their own way, liven up a show that runs the risk of being static (as, basically, live electronic-only shows often are). They also indulge the audience, sometimes stepping in front of the console to call for hand clapping during songs, which end up proving to be the show's only slightly chilling moments.
Because – let's face it – the Chemical Brothers themselves aren't cool anymore. Her last works are no longer available relevant and their electronics have inevitably lost the futuristic and contemporary touch that made them institutions of the genre. All right: Simons and Rowlands are now fifty years old and have been around for thirty years. Their goal today is no longer to talk about the future, but to institutionalize their sound. And that is revealed in life. The Chemical Brothers sound is the Chemical Brothers sound. It's neither old nor new, it's just timeless. Drums, rises, drops, which always come off in a certain way, are a trademark, a masterpiece of sound engineering, a rare sound surgery. To be able to listen to the Chemical Brothers and still enjoy them on this level today is a privilege.
This becomes even clearer in public. There are plenty of Simons and Rowlands' peers and their eventual children, as well as thirty-year-olds who grew up watching their unforgettable MTV videos, and the inevitable stoners in sunglasses happily sharing the moment. However, there's no revival effect: while the show aims to shape the Chemical sound over time, it does so in a contemporary way thanks to an incredible visual section helmed by Adam Smith and Marcus Lyall (Check out her Instagram to understand the aesthetic meaning of their trip). And here we come to the point: Smith and Lyall's work is nothing short of sensational. The two on the large LED wall that takes up the entire stage backdrop produce two hours of video footage that just isn't to scale for the current world competition. The two, who have practically always worked with the Chemicals, move between films, video clips and 3D art, creating the perfect chemical and hallucinogenic universe that Simons and Rowlands' music is designed for. The quality of the broadcast is so above average that at some moments one runs the risk of stopping dancing and following the video narration. But as soon as that risk is perceived, there is a change, a mutation into something more linear and clean that draws attention back to the fulcrum of live performance and thus to dance.
Chemical's concert is a small masterpiece because it manages to build, through music and aesthetics, a two-hour universe that takes those who live the experience beyond time. We're not in 2023, but we're not in 1995 either, we're somewhere, who knows where, and we're experiencing a piece of history. In the end, what makes being cool is sublimating the concept and becoming? forever?