Fedez and Lazza's alcoholic drink that gets people talking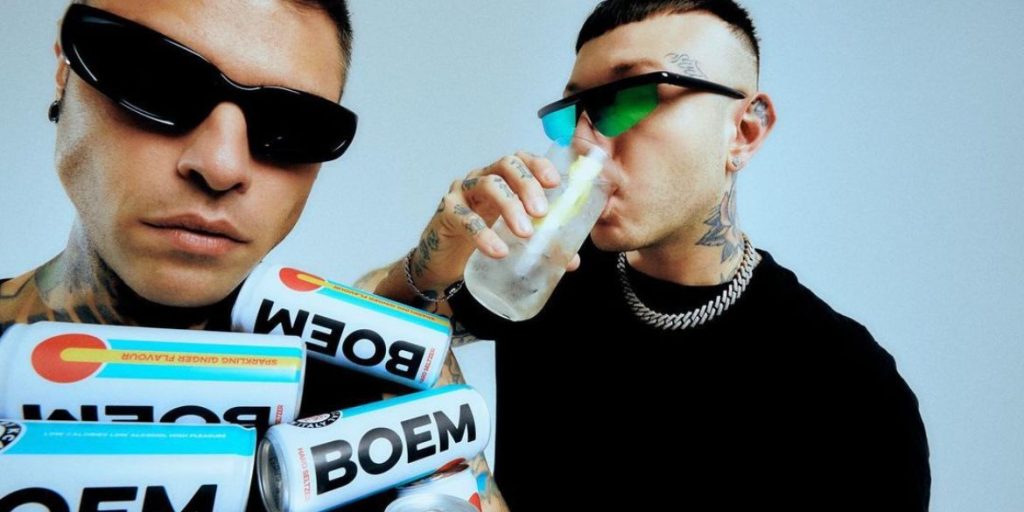 Tuesday June 23rd is a date that fedez And Lazza will be remembered for a long time as it coincides with the official launch of BOEMthe alcoholic beverage that resulted from their collaboration, which immediately became a talking point on the internet.
Let's see what it is.
Fedez and Lazza: After the peace, the BOEM drink
A little over a year ago, the internet was talking about Fedez and Lazza making peace after a dispute arose over a reason that frankly escapes us at the moment. A year later, here they are together, not for a song — like the 1989-born entrepreneur did with another former enemy, Salmo — but for a brand new alcoholic drink.
It was born today BOEMA Hard seltzer the meaning of which they themselves explained:
It is an alcoholic, carbonated and flavored drink (very good). The production technique is a complex blend of natural flavors developed in harmony with a neutral ethyl base and Seltz (carbonated water).
Like all alcoholic beverages, despite its very low alcohol content, it cannot be sold to minors under the age of 18.
On the BOEM Instagram page, they then revealed other small details, but not the release date or the price of this drink.
At the moment we only know the following:
is a low-alcohol, low-calorie canned beverage proudly made in Italy
The first variant of BOEM to hit the market will be lo Ginger
will be offered for sale from June
It is the result of a year and a half of work
BOEM by Fedez e Lazza is not the first example of a rapper (or similar, we already know that many of you will turn up your nose when you see the word "rapper" in connection with Fedez) who entered the business of alcoholic beverages or just got in drinks. Snoop Dogg's Cali Red, Jay-Z's Ace of Spades Champagne, 50 Cent's Vitaminwater and Branson Cognac, and Diddy's Ciroc are just a few examples that can be made in this area.
Now it's the turn of the two Milanese singers (are you happier now?) and we're sure they'll be making waves, at least in the short term.
After all, it was just a few photos taken over the weekend of them carrying or drinking some pixelated cans together to drive most of their fans insane. Who knows what will happen when the promotional machinery of their new brand hits 100%.
We are excited to see how everything will develop. In the meantime, you can follow BOEM Here.