Laura Pausini is back live in Venice and triumphs again despite the rain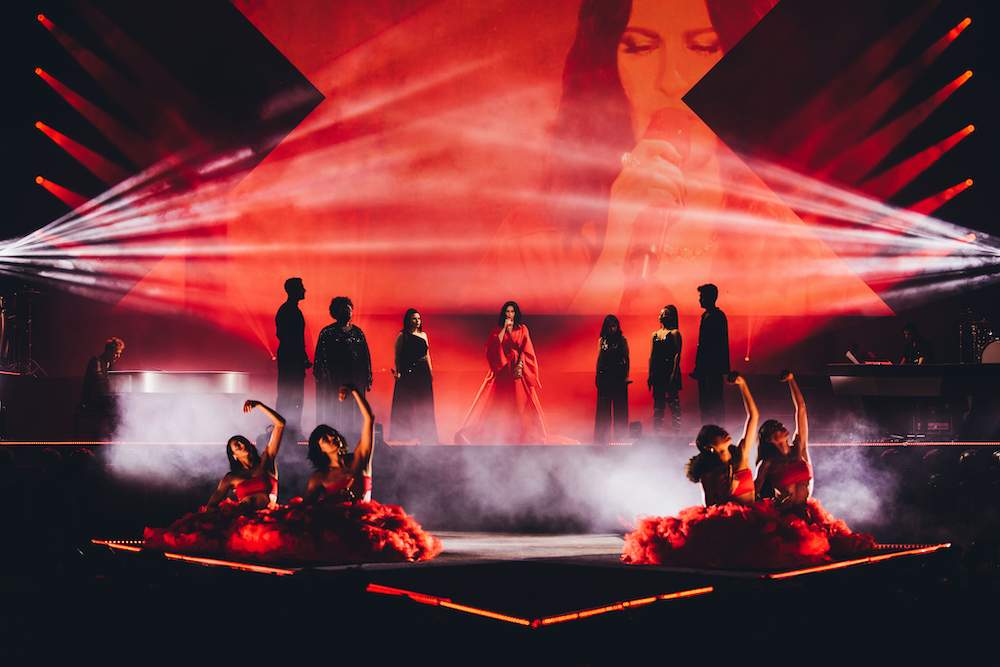 June 30, 2023, Venice. Laura Pausini returns live five years after the last time with a preview of the world tour which begins in Venice.
It was June 2, 2007 when Laura Pausini took the stage of the San Siro stadium and achieved a very important record in Italian music: she was the first woman to perform in a stadium.
An epic night for Italian music that rained heavily on Milan. The pop star with a rocking and melodic soul was not discouraged and, with all her courage, managed to captivate more than 70,000 people and turn their eyes to her.
June 30, 2023. 16 years after this concert for laura another important appointment. His first concert in Venice, the first concert after a five-year break and his return to the squares 30 years after the last time.
The preview of the world tour takes place against the evocative backdrop of St. Mark's Square in Venice, a place made all the more impressive by the water from the crowded canals reaching the feet of people arriving at the square.
An extraordinary sight, but like sixteen years before, the rain comes again to baptize this important milestone for the artist.
But after only ten songs, a real storm comes Laura PausiniJust like 16 years ago, he doesn't take a step, takes the stage, walks down the catwalk in the middle of the audience, shares the rain with them and once again holds them tied to him.
Half an hour of improvisations, chatter and songs, performed a cappella with impeccable technique, exploring the pearls of his repertoire.
When the rain stops falling laura continues the concert with its musicians, bringing home a real triumph, tackling all the technical issues: microphones that don't work, instruments that skip and listening through headphones is impossible ("I hear so many voices in my headphones and I don't understand anything, I feel more like Marilyn Manson than at my concert.."). Majestic.
If you wanted to explain to people why Laura PausiniNot only is she the most famous, appreciated and awarded Italian singer in the world, but also the only woman to have won every imaginable award, filled stadiums and sat in the charts for more than three decades. That is, if we wanted to try, to explain all this it would be useful to show what happened in that half hour of chaos.
While the organization was still considering what to do, when it seemed that the concert could no longer take place, Laura began to sing even more determinedly, cheering on the audience.
An exchange of energy, talent, passion, love, courage and "hunger" (which will be the envy of any artist of the new generation) are just some of the qualities that transcend personal taste Laura Pausini a unique professional in the Italian music scene. And that's a fact.
Add to that the healthy perfectionism with which the artist personally took care of every detail of the show and created a show, an often misused term, an international show, a truly monumental show, and the game is done.
We remind you that the show in Venice will also take place on July 1st and 2nd, before moving to Seville.
LAURA PAUSINI PREVIEW TOUR Venice. The stage
laura Pausini She decided to start again from the courts because in 1993 her first tour took her to courts all over Italy.
An impressive production that no other international pop star is jealous of. A show thought through in detail with ecologically sustainable special effects
"Returning to the pitches after 30 years is a wish that is becoming a reality today. San Marco and Venice have such an impressive story that I tried to tell together with Luca TomSSINI Co/director with me, one The show was a tribute to the place that hosts us, to its history, to its beauty, and united my repertoire in this year of celebrations.

As always, I started with the music and divided the show into three acts will not only represent musicalitybut also stylistically the past, the Present and Future.

All of the artists I have worked with have helped me with this project ambitious and unique (because it will never be a DVD or TV show)that only who will be Now he will be able to live in the hope that he will never forget it. There's no way I'm going to do it.

Each year that passes I feel a duty to commit and learn to continue this valuable career that has been given to me…"
The monumental stage bears the prestigious signature of Fabius November and from his studio, which designed an internship that would make it possible laura to tell all the phases of his artistic career:
The partnership of laura And Luca Tommasini in the artistic direction, already born in the Italian stadiums during Laura's last tour, brings the show to an extraordinarily competitive level in the international scene:
"It's a show that aims to accompany Laura on her incredible journey, a story marked by time, represented both on stage and in the images transmitted by the LEDs.

Backstage, a large hourglass-shaped screen framed on the sides composed of six columns and capitals on which visuals and graphics live to create an experience totally immersive. It is told on stage a story in three acts. The past painted by Red accented by each element, the present illuminating the stage and blue LEDs, and that Future turning green creating a futuristic panorama.

On stage, choreographies by 12 incredible dancers and paintings alternate to enrich the moments of the show
staged by numerous performers who underscore the drama of some of the show's key moments. On the screens, a parallel story, told of a series of video contributions ever made for a Laura show, a Laura who
Adventures in touching strings and playing strings visually that he has never experienced before.

Dream dresses for Laura as well as for dancers and performers, brought from museums and studios by There are fashion brands all over the world that ma
I approach live music and unreleased universes created with 2D and 3D techniques that complement and contrast the elegant context demanding of the two historic squares where this live preview lives. The challenge is there to wink at oneor spAnglo-Saxon ttacolo, but in full Italian style, with strong and extremely effective identity".
The styling is signed by Susanna ausoni And Pablo patanea current partnership and a real debut in Laura's live shows, for her who takes care of the artist's outfits:
"We started from a fixed point: Laura is our most international artist. His way of working differs from that of all other Italian artists and this time he is in historical places: Venice and Seville."
Amina Lombroni He took care of the image of bands, dancers and artists.
Great care has also been given to the costumes, which follow each other on the screens, immersing themselves in graphic strokes and unreleased worlds resulting from the creativity of Eddie Angelelliwho signs the visuals of the show.
Light programming and design Ivan Pierri complete the impression of cleanliness and elegance of this live preview.
a concert dedicated to women and Romagna
I do (seen)the song about the "invisibles" that made it possible Pausini in order to win Golden Globes and to be a candidate for it oscarsbecomes a song on this tour about the pain of women who suffer violence and about the women who lost their lives at the hands of men.
An extraordinary moment in which the voice of laura pausini, The music of his musicians and the choreography on stage become a big hug and at the same time a cry: denounce!
There is also room for his beloved Romagna. All the artist's stamp of approval for these three concerts is donated to three communities close to the singer's roots: Solarolo, Faenza and Castelbolognese, and the song Sorella terra, a song not performed live since 2009, is a dedication disintegrated on this planet by the hand of man himself.
Click Next below for the lineup and concert cast details.