Because it is important not to forget the racist murder of Fermo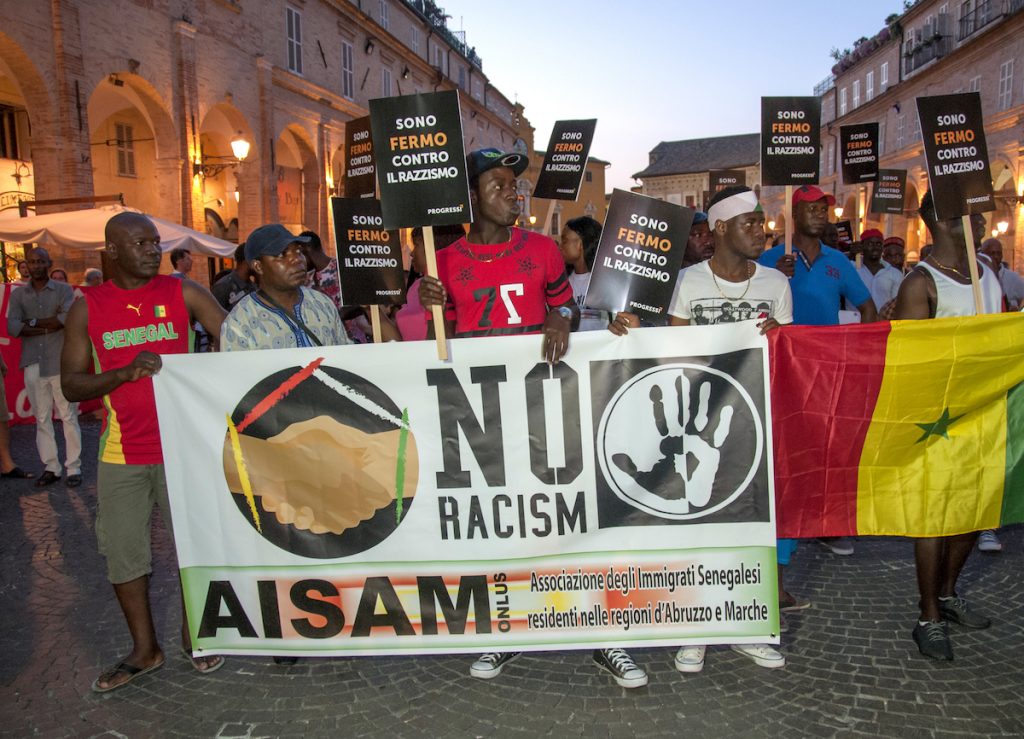 Seven years have passed since the afternoon of July 5, 2016, when Amedeo Mancini, a Fermana ultra close to far-right circles, punched and killed Emmanuel Chidi Nnamdi, a 36-year-old Nigerian asylum seeker.
"Killed accidentally, not in self-defense, but for racist reasons." So said the Court of Cassation, denying Mancini's defense request that the aggravating factor of racism be removed from the sentence (four years, serving under house arrest). with permission to work eight hours a day).
To understand this story in all its dramatic implications, it must be placed in a larger context. A few days after Emmanuel's assassination, the writer Angelo Ferracuti commented on it manifest what happened in Fermo and spoke of "an intolerance that began here with the beating of two Somali refugee shoe workers in front of a bar in the indifference of many, the killing of two Kosovar boys by an owner of 17 guns, which were then committed." Suicide in prison, the small strategy of tensions orchestrated by far-right groups against communities (four attacks in a few months) guilty of hosting political refugees."
In such a climate, to call out "African monkey" to a person – in this case Chinyere, Emmanuel's wife – becomes a "girl," as Amedeo Mancini's brother explained. "He loves to crack jokes like that. When he sees a Ne*ro, he throws peanuts at him, plays with the sound of an orangutan… This also happened the other day. It was just a girl.
No wonder if we leave the province of Marche for a moment and consider that just a few weeks ago the Minister of Regional Affairs and Autonomies, Roberto Calderoli, was sentenced to seven months' imprisonment with probation and was not mentioned in the criminal record for offenses committed in 2013 against the then Integration Minister Cecile Kyenge. On July 13 of that year, during a rally, the Northern League board of directors — then vice president of the Senate — defined Kyenge as an "orangutan." The crime will become statute-barred in December.
Had he silently endured Mancini's racist slurs, Emmanuel would have been 43 today. The same age as Frederick Akwasi Adofo, a homeless Ghanaian who was beaten to death in Pomigliano d'Arco on June 19 last year by two 16-year-olds now accused of first degree murder compounded by futile motive and cruelty.
"This death is not a political catwalk," read a banner posted at Friedrich's funeral on Monday, July 3. And precisely the role of the institutions is one of the most critical aspects, highlighted by Kadir Monaco, an activist and social worker from Naples. "There are two types of problems," explains Monaco. "The first is represented by a government that incites hatred and dehumanizes the bodies of marginalized people, migrants and the homeless with its racial segregation policies. The second reason is the lack of a social policy in southern Italy, especially where the Camorra is present. The children should be intercepted and supported in fighting school dropouts and not fall into the hands of organized crime. The homeless should be given the opportunity for effective social reintegration. The state should help a person who is a victim of an infirmity to stay alive, not organize a funeral for them."
As we know, we are not all equal in death. This is a hideous difference, which can also be demonstrated in the case of Emmanuel and Frederick. The latter was fondly remembered by the entire community of Pomigliano d'Arco, and no political representative thought of defending his murderers. Emmanuel has not received the same treatment.
Many people believe that Fermo's murder was the result of a "fight", a tragic event with no real culprit. There are those who have even gone so far as to equate the killer and the murdered and define them both as victims. Months of local and national media and political campaigning has polluted the public debate and cast shadows on the sole victim. Emmanuel Chidi Nnamdi, a staunch Catholic who fled Boko Haram violence, was wrongly accused of being part of the Nigerian mafia and attacking Mancini with a signal pole, even though only traces of his killer were found on the object.
Emmanuel cannot be forgiven for asking Mancini to answer for the insult to his wife. It is unacceptable that a black man does not know his place. This is Fermo's terrible lesson.
In fact, the prosecution recognizes the mitigating factor in provoking the Ultra "due to Emmanuel's unjustified and illicit aggressive response to the insult received." The "careful juxtaposition of checks and balances" of the plea deal doesn't escape a keen observer like Alessandro Leogrande, a writer and journalist who died prematurely at the age of forty. Leogrande in his own reporting For International notes that "the verdict on this point seems to adopt the 'black guilt' thesis, although no appreciable signs of struggle were found on Mancini's body (he didn't even have a daily prognosis)".
Another risk is the selfless rhetoric of the fool and the individual case. Mancini was simply an ultra, not a member of a community that had never complained about his "boyishness." At least until the dead man escaped. The two 16-year-olds who killed Akwasi Adofo instead belong, for personal reasons, to the despised category of today's young people without values ​​and in disorder.
A simplification that absolves responsibility and is wrong considering that contempt for racists and the homeless is nothing new, as the writer Igiaba Scego recalled, citing the episode of the Somali citizen Ahmed Ali Giama, who died on the night of May 21st to 22nd was burned alive from 1979 in the center of Rome, a few steps from Piazza Navona. His killers were never brought to justice. Four young men in their twenties – three boys and one girl – were sentenced to around fifteen years in prison, but were later acquitted on appeal with full grounds, which was upheld in cassation.
The story of Frederick Akwasi Adoso, who was beaten to death in Pomigliano d'Arco because he was black and in a difficult situation (he was homeless), reminded me of Ahmed Ali Jama, who died in Piazza della Pace in 1979 Rome was burned alive. So many cruel analogies. #sayhisname #Black Lives Matter pic.twitter.com/eF4bFNDkkg

– Igiaba 📚 (@casamacombo) June 21, 2023
Ahmed Ali Giama fleeing a military dictatorship (that of Siad Barre), Emmanuel Chidi Nnamdi from Boko Haram terrorism, Frederick Akwasi Adofo was an applicant for international protection who survived the hell of the Libyan concentration camps. All three died here at the hands of our countrymen. You are not the only ones. A first step in the right direction would be to recognize the existence of a racism in Italy that deprives people who are perceived as alien of any rights, including the right to life.