Benny The Butcher live in Italy in Bologna: tickets available now!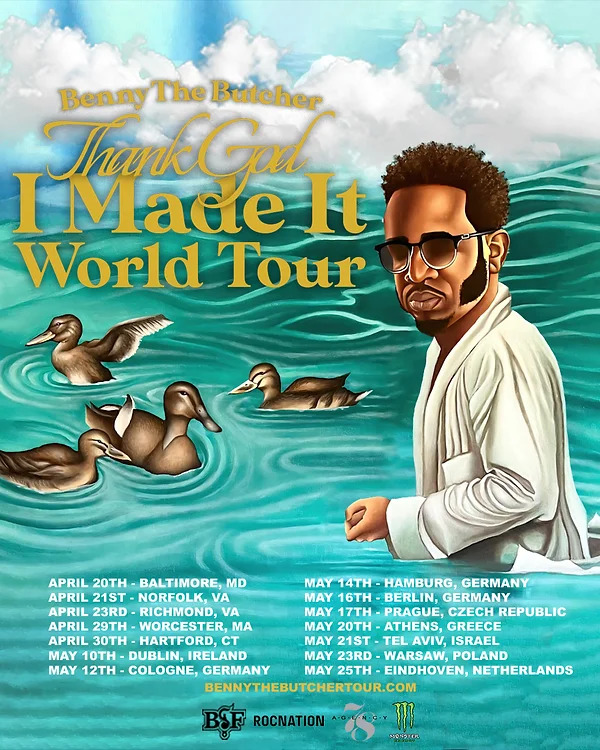 The world tour of Benny the butcher has been enriched with a new additional date that will make the many Italian fans happy: namely on May 19, 2023 he will perform Bologna!
Benny The Butcher's Thank God I Made It World Tour will stop in Bologna
Benny The Butcher, together with his collective Griselda/B$F, has transformed his career from an underground artist into an internationally renowned artist in recent years. Those like us who have followed his music for many years cannot be proud of the recognition he is finally getting from audiences.
Even Benny himself is grateful for this, because his first world tour is named after him Thank God I made it on the world tour.
When the tour was announced, many expressed a little disappointment to find that unfortunately Italy was not on the list of European countries included in the programme. Especially after attending his labelmate Conway's live, we also expected to see Benny in Italy, instead all seemed lost.
However, unexpected news arrived a few days ago: Benny The Butcher will be making a stop in Bologna at the local Sottotetto in Italy on May 19th, 2023. A kind of additional date that is pushed between the already planned dates in Prague and Athens.
The credit for bringing a large load like Benny to Italy goes to the organizations corner culture, Pepper Orsini And Portfoliolainz Records. So he is personally involved Yaredrepresenting PL Click/FCE/Camelz La Finezza Click/Italy HIP-HOP Foundationone of "originator" of local hip hop.
The event will host alongside the Buffalo artist on stage, Akran and Samula, Effekappa in addition to the above camel z and the DJ set Kill the G wordHomage to PHASE 2 made by DJ Trix.
In short, an event that brings hip-hop back to the center in its purest form.
Tickets for this are available now connectionsHurry up!